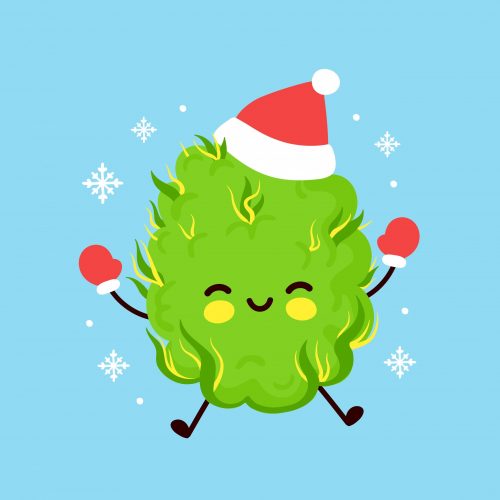 Christmas time is a fantastic reason to stay in pajamas from the night before, or grab some sweats and enjoy reading about our 5 Christmas Cannabis Edible Recipes.
What feels better on Christmas morning than a hit of Cannabis?
And maybe this year, instead of a cocktail, spirit or beer, you can enjoy some festive Cannabis edibles – perfect for Christmas!
What Are Some Good Weed Strains For Christmas Edible Recipes?
Have a little fun during the holidays and choose some great strains of weed that go nicely with Christmas.
Northern Lights will rock your Christmas socks off! The flavor and terpenes of pine are great for the Christmas season. This strain is great for sweet recipes like Christmas cookies and marijuana snowball cookies.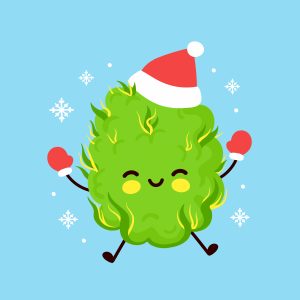 2. Ever tried Ice? It looks like a snow-covered kind of bud and has a floral taste and scent. It's got a nice earthy taste and known for inducing a relaxed and euphoric feeling. If you're getting together with family and aunt Tilly is a pain, well then this is your strain!
Use Ice in recipes like these ones.
5 Christmas Cannabis Edible Recipes
You'll love baking and making our 5 Christmas Cannabis Edible Recipes!
Make sure you comment below with your favorite edible holiday memories and recipes!
1. Weed Infused Marshmallows
That warm, comfy feeling of your first sip of decadent hot chocolate with marshmallows on top is the best, right?!
You can make infused marshmallows at home, seal them up in an air tight container and sprinkle them on your favorite holiday hot beverages all holiday long.
Prep Time: 20 minutes
Total Time: 20 minutes
Cuisine: European
Keyword: Bomb!, Cannabis, Marshmallows, Sugar, Weed
Calories: 200kcal
THC: 700MG Per batch
2 cups Cannabis sugar
3 ounce gelatin sheets ( or 3/4 ounce gelatin powder)
1 cup cold water
2/3 cups light corn syrup
1/2 tsp salt
1 tsp vanilla extract
1 cup powdered sugar
Combine the gelatin and 1/2 cup of the cold water in the bowl of an electric mixer fitted with the whisk attachment and allow to sit while you make the cannabis syrup.

Meanwhile, combine the cannabis sugar, corn syrup, salt, and 1/2 cup water in a small saucepan and cook over medium heat until the sugar dissolves. Raise the heat to high and cook until the syrup reaches 240F on a candy thermometer. Remove from the heat.

With the mixer on low speed, slowly pour the sugar syrup into the dissolved gelatin. Put the mixer on high speed and whip until the mixture is very thick, about 13-15 minutes. Add the vanilla and mix thoroughly.

Oil a 9×9 inch baking dish and top with baking paper. Coat baking paper with oil and pour weed marshmallow mixture into the pan, smooth the top, and cover with another piece of baking paper. Allow to stand uncovered overnight until it dries out.

Turn the marshmallows onto a board of powdered sugar and cut them in squares. Dust them with powdered sugar or cannabis powdered sugar.
Calories: 200kcal | Fat: 20g
2. Marijuana Snowball Christmas Cookies
Step aside Stoner Santa! We've got some tasty edible treats for you. Marijuana Snowball Christmas Cookies is going to make this festive season buzz with flavor!
These little bites take 20-30 minutes to make, and they literally melt in your mouth.
As always, I caution newbies to make sure they remember what I like to call my "Marijuana Mantra" which is:
Dose Low and Slow With Cannabis Edibles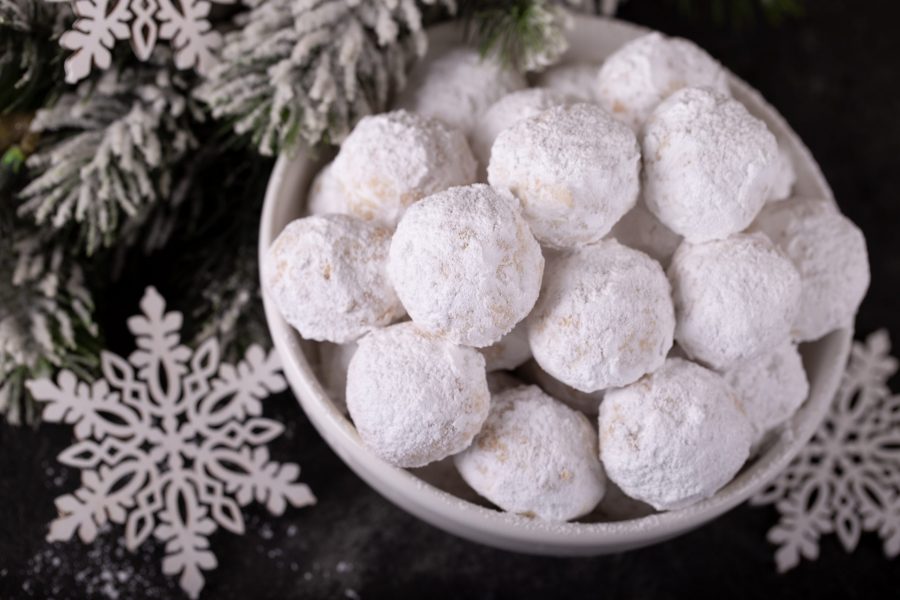 Delicious little powdered sugar bites loaded with cannabis butter
Prep Time: 10 minutes
Cook Time: 7 hours 12 minutes
Course: Dessert
Keyword: (Cannabutter)
Author: Steph Van De Ven
Cost: 20+
Large Mixing Bowl

Cookie Sheet

Parchment Paper

Mixing Soons

Measuring spoons

Measuring Cup
1/2 cup unsalted butter (regular & softened)
1/2 cup cannabutter softened
1/2 cup powdered sugar
1 tsp vanilla extract
2 1/4 cups all purpose flour
3/4 cup finely chopped nuts choose your fav or use 2-3 combined!
1/4 tsp Himalayan salt
Pre heat your oven to 400F

Mix regular butter and cannabutter with 1/2 cup powdered sugar and the vanilla in large bowl. Stir in flour, nuts and salt until dough holds together.

Shape your dough into little balls and place on parchment-lined cookie sheet

Bake for 10-12 minutes – don't let them get brown!

Let them cool a bit, and while still warm, roll them in powdered sugar. Wait a few minutes,and roll them in again!
3. Almond Torrone with Weed
It's a delicious nougat confection that is typically eaten at Christmas, and takes VERY little time! We're making Easy Almond Torrone with Weed.
You'll need a little patience when it comes to Torrone – because it's mostly standing and stirring.
So turn up the Christmas tunes, grab a nice cup of Cannabis Coffee, or Hey! Have a CBD Cocktail, and let's get baked.
This is one of our TOP 5 Christmas Cannabis Edible Recipes!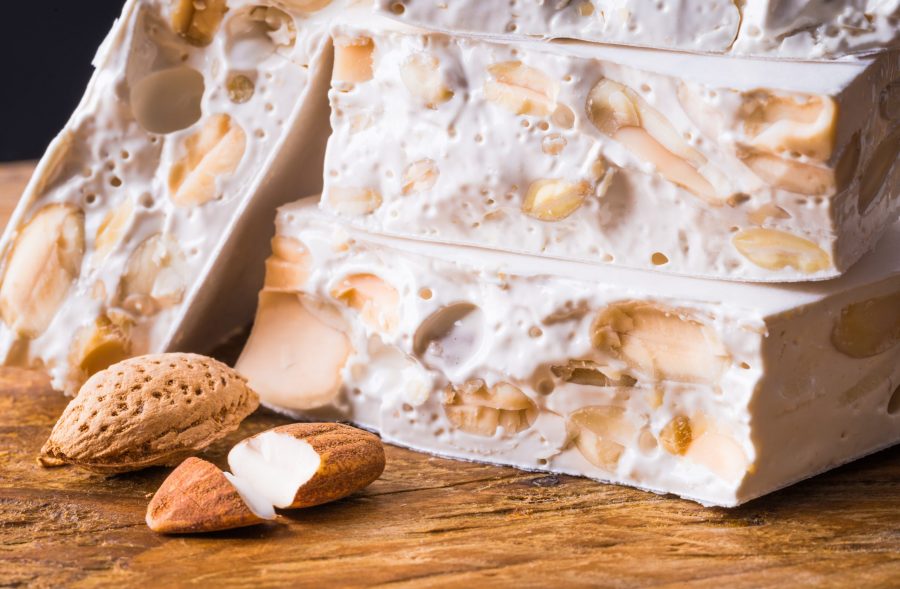 Crunchy -sweet-almond nougat candy perfect for Christmas!
Course: Dessert
Keyword: (Cannabutter)
Author: Steph Van De Ven
Cost: 25+
2 Large Egg Whites Room Temp
3/4 cup Corn Syrup
1/2 cup Sugar Granualted
1 1/2 cup Light Corn Syrup
1 1/2 cup Sugar
1/2 stick Cannabutter melted
1 tsp Vanilla Extract Pure
1/4 tsp Himalayan Salt
3 1/2 cups Raw Almonds, Skin on
1 non stick cooking spray
Begin by making the "mazetta": Using your electric mixer, beat egg whites until stiff; then set aside.

In your saucepan, combine corn syrup, 1/4 cup water, and sugar. Use candy thermometer. Bring to a boil over high heat, stirring with a wooden spoon, about 5 minutes.

Cook over medium heat, stirring occasionally, until temperature reaches 242 degrees for about 15 to 20 minutes. Remove sugar syrup from heat. Beating constantly on medium speed, slowly pour hot syrup into the egg whites that you set aside. Continue beating for 3 to 4 minutes until syrup is incorporated.

Next, spray an 8-inch square baking pan with non-stick cooking spray and set aside.

In your saucepan, again, combine corn syrup and sugar. Use your candy thermometer. Bring to a boil over high heat, stirring constantly with a wooden spoon, 5 to 10 minutes. 

Over medium-high heat, cook to 280 degrees (soft-crack stage), about 12 to 15 minutes, without stirring. If the heat is too high, it can boil over, so you have to stay and watch.

Remove from heat; let stand for 2 minutes. Pour your syrup over the mazetta. Working QUICKLY, stir with a wooden spoon until almost smooth. Then stir in cannabutter, vanilla, and Himalayan salt. Mix until cannabutter is incorporated. Then as an almost final step, stir in the almonds.

Let stand at room temperature, uncovered, until firm, 4 to 6 hours.

Spray a large cutting board generously with non stick spray. Unmold nougat from pan ontoyour cutting board. Cut the nougat into chunks. Wrap each piece in parchment paper and seal tight! ENJOY!
4. Cannabis Banana Bread
This Cannabis Banana Bread recipe is easy-to-follow.
With its few ingredients, it boasts incredible taste considering its lack of complexity.
Enhanced with Cannabis Butter, this recipe takes Banana Bread to a whole new level. Have it for Christmas morning brunch, or warm it up, add a little cannabutter, and enjoy it as your new Christmas Eve tradition.
Enjoy a classic tasting loaf with a cannabis twist. Cannabis Banana Bread tastes amazing while elevating your weed edible repetoire.
Prep Time: 15 minutes
Total Time: 15 minutes
Cuisine: European
Keyword: Banana, Bread, Cannabis
Calories: 200kcal
THC: 175 – 350 MG Per cake
Author: Steph Van De Ven
1/4 Cup Cannabis Butter
1/4 Cup Normal Butter
2 whole eggs
2 Cups All Purpose Flour
1 Teaspoon Baking Soda
1/4 Teaspoon Salt
3/4 Cup Brown Sugar
2 Cups bananas
Preheat oven to 330 degrees F (165 degrees C). Lightly grease a 9×5 inch loaf pan.

In a large bowl, combine flour, baking soda and salt. In a separate bowl, cream together cannabis buttrt normal butter and brown sugar. Stir in eggs and mashed bananas until well blended. Also Stir banana mixture into flour mixture; stir just to moisten. Pour batter into prepared loaf pan.

Bake in preheated oven for 60 to 65 minutes, until a toothpick inserted into center of the loaf comes out clean. Let bread cool in pan for 10 minutes, then turn out onto a wire rack.

Serve the Cannabis Banana Bread
Calories: 200kcal | Fat: 20g
5. Upside-Down Pineapple Cake With Weed
It's totally retro but absolutely fabulous!
Growing up as a kid, did you ever have a favorite cake or pie that someone used to make you? For me, it was pineapple upside down cake.
If you can snatch it up while it's still warm? Mmmmm – perfect for cold Winters day!
Prep Time: 10 minutes
Cook Time: 45 minutes
Course: Dessert
Keyword: cannabis butter
Cost: 20-25
Round Oven Safe Cake Pan

Parchment Paper

Can Opener

Large Mixing Bowl

Spatula

Handheld Mixer

Oven
For The Delicious TOPPING:
1/4 cup Cannabis Butter Melted
1/2 cup Brown Sugar
8-10 Pineapple Slices From the can
20 Maraschino cherries
THE CAKE
1 1/2 Cake Flour
1 tsp Baking Powder
1/4 tsp Baking Soda
1/4 tsp Salt
6 tbsp Cannabis Butter Room Temp
3/4 cup Granulated Sugar
2 lg Egg Whites
1/3 cup Sour Cream
1 tsp Vanilla Extract
1/3 cup Milk or Cannabis Milk You Choose! More Cannabis=More potent.
Preheat oven to 350°F (177°C).

Prepare topping first: Pour 1/4 cup melted butter into a parchment-paper lined cake pan. 

Sprinkle brown sugar evenly over butter.

Arange about 6-7 pineapple slices and all the cherries on top of the brown sugar.

 Place pan in the refrigerator for a few minutes as you prepare the cake batter. 
CAKE BATTER PREP
Whisk the cake flour, baking powder, baking soda, and salt together. Set aside.

Using a handheld or stand mixer fitted with a paddle or whisk attachment, beat the butter on high speed until smooth and creamy, about 1 minute. Add the sugar and beat on high speed until creamed together, about 1 minute. On high speed, beat in the egg whites until combined, then beat in the sour cream and vanilla extract.Pour the dry ingredients into the wet ingredients. Turn the mixer onto low speed and as the mixer runs, slowly pour in the milk. Beat on low speed just until all of the ingredients are combined. Do not over-mix. The batter will be slightly thick.

Remove topping from the refrigerator. Pour and spread cake batter evenly over topping.

Bake for 45 minutes, tenting foil on top of the cake halfway through bake time to prevent the top from over-browning. Remember we're doing an upside-down cake!

Remove cake from the oven and cool on a wire rack for just 20 minutes. 

Gently place a cake stand or plate underneath your cake pan, and flip it over!

Enjoy!
Cooking With Cannabis
The team at Cannadish wants to encourage you to get in your kitchen, make some of our tasty recipes, try out your own, and enjoy the festive season with weed!
If you're in the mood to wear an ugly Christmas sweater – just to make things even more festive, check out these sweaters.