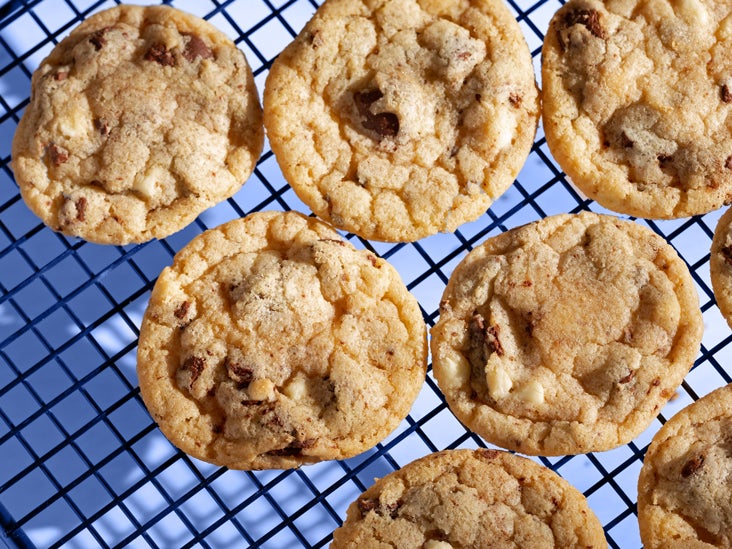 "On the 12th day of Christmas, my true love gave to me…
An insane hit of THC."
Baking sweet treats is serious business around the holidays. The oven is basically a revolving door with trays of stacked cookies flying in and out. We ain't complaining.
And whether you're a purist with a family recipe that still shines or a new baker looking for something bold to whip up, there's a special batch you may want to consider. Yep, we're talking cannabis cookies.
We've put together a list of standout edible cannabis recipes you can bring to any holiday party (with due warning).
The creaminess of a coconut almond macaroon or the kick of a gingersnap will mask the taste of cannabis, leaving your strait-laced uncle to ask, "Is there even weed in here?" while reaching for his third and seeing a lot of purple or something.
Now that's good baking. These 12 cannabis cookie recipes will have you in a Happy Holidaze quicktime.
A warning about edibles
While those used to the effects of edibles may have a simple swell time with these recipes, people who are new to them may find it hard knowing how much to eat.
Due to their delayed effect (you'll feel their buzz between 30 minutes and 2 hours later), edibles have a high potential for overdose, and their effects can last a long time compared to smoking.
Especially when home baking, the THC content can be hard to track. Take it slow and know your limit.
The "I don't feel anything, just one more" mentality is fine until it all kicks in simultaneously. Whoever you're sharing cookies with, provide fair warning of what's afoot.
Topped with a layer of weed-enhanced caramel frosting, these molasses-spiked morsels are the sweets you never expected would find their way into your holiday baking — but are glad you gave em' a shot.
Think of them as the perfectly spiced gingersnaps grandma used to make, only with something a little extra that grandma would never have thrown in.
Made with cinnamon, molasses, and ginger, the tasty delights only need 10 minutes in the oven. One batch makes 30 cookies, so put on a pot of tea, throw these in the oven, and freeze any leftover dough for next time.
If you need a break from classic gingerbreads, we hear you. There's definitely a time and place for crispy snowflake-like cookies with a different kind of look and zing — one of fresh orange zest and almond.
(And a little cannabis-infused coconut oil.)
They're drizzle-coated with chocolate, so, as you can imagine, that combination is killer. These treats are vegan and gluten-free too, made with coconut oil, coconut milk, gluten-free all-purpose flour, and brown rice syrup.
But, as another reminder before licking the delicious spoon too many times — there's definitely cannabis-infused coconut oil in here. So if you want to finish the bake without getting baked, then it might be wise to refrain from spoon-lickage.
When cookie dough cravings hit, cookies that require zero baking are a must.
Usually sneaking a chunk of cookie dough means risking the chance of a belly ache after eating raw egg. Not today, belly bother!
This recipe is sans egg but needs cannabutter, brown sugar, granulated sugar, milk, vanilla extract, flour, and semisweet chocolate chips.
You can store them up to a week in an airtight container, which is also ideal for a cookie you should refrain from devouring more than one or two of at once.
Oatmeal cookies are always a hit on the dessert table. These dense treats come to life as a result of raisins, oats, pecans, and the wild-card ingredient of cannabis-infused butter.
Bake these (very) bad boys until they're slightly browned and serve. But do let the people know what they're biting into — they're in for one heck of a journey.
Peanut butter cookies are a no-brainer.
They're both salty and sweet, and we often reach for them when a classic chocolate chip just isn't cutting it. Who doesn't love that soft, chewy, peanut buttery-ness?
This recipe, based on a grandma's very old recipe, provides a bunch of protein alongside a touch of cannabutter.
Wrapping presents, arranging food, trying to get everything finished at work before you get to put your feet up — the holidays can be super chill, but the weeks before can be mad. And the holidays themselves aren't always happy.
Don't worry though — these cookies can take the edge off.
Packed with brown sugar, vanilla, oat flour, oats, cinnamon, ginger, dried cranberries, dark chocolate chips, and cannabis-infused coconut oil, you'll forget that you're biting into something healthyish.
And also where you put your Santa hat.
Toffee isn't a flavor everyone wildly craves through the holidays in the same way as a gingerbread or shortbread.
But once you get a taste of the butterscotch-like bits, it'll be in your baking rotation for some time. This is just a good-ass cookie generally, but its nuttiness (and overall woozy vibes) lends itself well to holiday-themed tomfoolery.
(If people really have an issue with its lack of "holiday flavors," just cut it into the shape of a Christmas tree.)
This medicated recipe is sweetened up with a toffee chip/chocolate chip combination and nutty with your pick of walnuts or pecans.
You wait all year to stuff your face with sugar cookies so might as well make them gorgeous. And intoxicating.
If the intended recipient of your cookie is fine and dandy with the surprise ingredient of cannabis butter, we see these as the perfect gift for any holiday visit.
Plus, you can regulate how potent your sweet treats come out by swapping out any portion of the cannabutter with standard butter.
With toasty coconut on the outside and dense almond on the inside, these medicated macaroons are a fun break from your spiked eggnog.
These fancy-looking desserts are vegan and gluten-free too.
Not all chocolate-filled desserts are as unhealthy as you think. These chocolate bites are on the healthier side thanks to wholesome oatmeal, salty peanut butter, instant espresso, honey, dried coconut, and cocoa.
And a knob of cannabutter doesn't hurt either.
Gluten-free, festive, and most importantly, delicious.
The base of these cookies is made up of chia seeds, brown rice flour, and garbanzo bean flour, and they're coated in a frosting packed with citrus zest, cannabutter, sugar, and maple syrup.
Santa will be thrilled if you leave these out for him. Although he might not end up getting around to all of those houses if he chows them down in front of the fireplace, so maybe tell him to hang onto the cookies until he's back at the North Pole.
Cinnamon is a classic wintry spice, and snickerdoodles are among the best cinnamon delivery systems imaginable. Pair that with a hit of marijuana-y fun, and you might just have completed Christmas by making these.
This recipe uses kief, or cannabis pollen/crystals, so that the flavor remains nutty and avoids the herbiness of many weed cookie recipes.