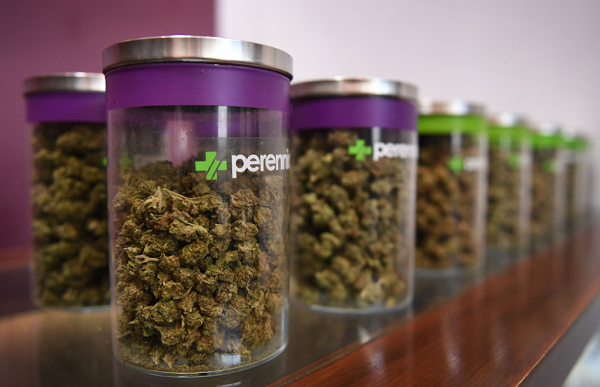 Adults in legal marijuana states exercised their rights in 2017 and indulged in a variety of products. Despite a wave of new customers entering the landscape after five states legalized recreational pot in the 2016 election, experts found many old-time cannabis favorites are still the most popular with consumers.
"I'm seeing some of the same strains like Blue Dream and Gorilla Glue turn up year after year on [Cannacopia's] most-searched list," Mike Weiss, founder and CEO of Cannacopia, an app that allows users to find information on 7,500 different strains of marijuana, told Newsweek on Thursday.
But not everything stayed the same. New trends showed an influx of low dose edibles becoming big hits with stoners.
As the year comes to an end, consumers still have some time to try the most popular cannabis strains, edibles and premium goods before 2018 arrives with even more options for pro-pot people.
Listed below are the products people loved most in 2017:
Blue Dream: A strain originating from California, Blue Dream is a longtime favorite of marijuana lovers. A great relaxing agent, the hybrid strain—meaning it's comprised of both sativa and indica marijuana plants—offers a sweet taste and helps to reduce anxiety.
Petra Mints: Developed by Kiva Confections, an artisanal marijuana edible company, the peppermint-like treats have become a go-to for people interested in low dosage products. The mints are made with 2.5 milligrams of tetrahydrocannabinol (THC)—marijuana's psychoactive ingredient—allowing users to refresh their taste buds without a major high.
AK-47: The earthy-tasting strain isn't nearly as aggressive as its name suggests. One puff of the hybrid marijuana leaves users feeling happy, relaxed and stress free. Its distinct high produces mental stimulation and also aides with focus and concentration.
Défoncé: Comparable to the luxury of Godiva, the marijuana-infused chocolatier produces vegan artisanal chocolates in flavors including Vanilla, Milk Chocolate, Matcha, Coffee, Mint, Hazelnut, Dark Chocolate and Dark+ Chocolate. Each bar contains 180 milligrams of THC.
Granddaddy Purple (GDP): The grape and berry flavored indica strain has a potent psychoactive effect that can be felt in the mind and body. Recommended as an herbal alternative to an alcoholic nightcap, GDP is also used to treat insomnia, stress, muscle spasms, pain and appetite loss.
Herb Essntls Moisturizer: Created with marijuana's non-psychoactive ingredient, cannabidol (CBD), the moisturizer helps combat itchy and dry skin. Along with CBD, Herb Essntls skincare products are made with organic apple fruit extracts, green tea and hemp seed oil. All skincare products are also paraben free.
Gorilla Glue: The hybrid strain is likely to leave users glued to the couch thanks to its high potency. The cannabis offers a piney aroma when smoked and is often used to treat patients suffering from chronic pain and insomnia.
Lola Lola Premium Disposable Vape Pen: Aside from being sleek, stylish and easy to conceal, Lola Lola's vape pens come equipped with THC concentrates, or oils, in a variety of strains, including the ever popular Gorilla Glue and Granddaddy Purple.