Weed-friendly Colorado considers ban against edibles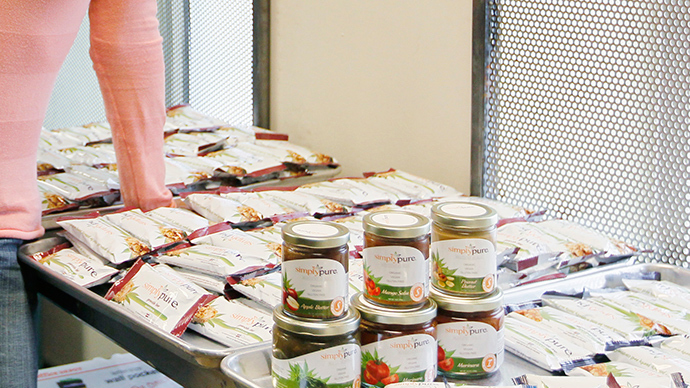 20 Oct, 2014 20:09 1) { element.innerHTML = ' / Updated ' + difference + ' years ago'; } else if (difference == 1) { element.innerHTML = ' / Updated 1 year ago'; } else if ((difference = current_date.diff(date_update, 'month')) > 1) { element.innerHTML = ' / Updated ' + difference + ' months ago'; } else if (difference == 1) { element.innerHTML = ' / Updated 1 month ago'; } else if ((difference = current_date.diff(date_update, 'day')) > 1) { element.innerHTML = ' / Updated ' + difference + ' days ago'; } else if (difference == 1) { element.innerHTML = ' / Updated 1 day ago'; } else if ((difference = current_date.diff(date_update, 'hour')) > 1) { element.innerHTML = ' / Updated ' + difference + ' hours ago'; } else if (difference == 1) { element.innerHTML = ' / Updated 1 hour ago'; } else if ((difference = current_date.diff(date_update, 'minute')) > 1) { element.innerHTML = ' / Updated ' + difference + ' minutes ago'; } else if (difference == 1) { element.innerHTML = ' / Updated 1 minute ago'; } else if ((difference = current_date.diff(date_update, 'second')) > 1) { element.innerHTML = ' / Updated ' + difference + ' seconds ago'; } else if (difference == 1) { element.innerHTML = ' / Updated 1 second ago'; } }); ]]>
State health officials in Colorado are considering rules that would remove marijuana-infused edibles from the shelves of retail shops where pot products have legally been available to adults since the start of the year.
Now nearly 11 months after the United States saw the longstanding federal prohibition against weed challenged in Colorado with the opening of state-sanctioned retail shops in compliance with the passage of a first-of-its-kind law, Amendment 64, regulators in the Rocky Mountain State are pursuing possible changes.
Colorado law currently allows adults to legally purchase marijuana and products made with the plant's potent chemical, THC, but the state's Department of Public Health and Environment says rules need to be put in place limiting what types of edibles are made available.
Many forms of edible marijuana "are naturally attractive to children," the department argues, according to the Associated Press, and thus in violation of the law's "requirement to prevent the marketing of marijuana products to children."
The AP reported on Monday this week that state regulators say this problem could be overcome if new rules are adopted mandating that edible marijuana products are packaged in such a manner that won't make them resemble other items that are absent THC. In doing so, however, it's possible that the majority of edibles currently available will soon become contraband.
According to a local NBC News affiliate, Jeff Lawrence of the Colorado Department of Public Health and Environment has recommended that a 22-person group tasked with considering changes to state law looks into eliminating pot brownies, cookies and other candies from the list of weed products that currently can be sold in retail shops.
"To allow the production of retail marijuana edibles that are naturally attractive to children is counter to the Amendment 64 requirement to prevent the marketing of marijuana products to children," reads his recommendation. "The intent of the Amendment and subsequent laws and rules was to decriminalize the use of retail marijuana, not to encourage market expansion within the marijuana edibles industry that subsequently create potential consumer confusion or mixed messages to children."
The NBC affiliate, 9News, reported that the group will meet on Monday this week for the third and possibly final type to decide what kind of changes, if any, should be undertaken to keep pot products from ending up in the hands of children. News of the proposed change comes only days after police in Denver, Colorado released a video warning parents to keep their children away from potentially THC-tainted candy this Halloween.
"By limiting the scope of allowable retail marijuana edibles to products that are not easily confused with ubiquitous food products, this recommendation creates a more defensible and transparent regulatory framework," the recommendation reads.
According to the Huffington Post, which also viewed the recommendations, the Health Department is pushing for changes that would "Prohibit the production of retail edible marijuana products other than a simple lozenge/hard candy or tinctures that are plainly labeled using universal symbol(s) and that users can add to their products at home."
"Hard candy/lozenges would be manufactured in single 10 mg doses/lozenges and tinctures would be produced and labeled with dosing instructions, such as two drops equals 10 mg," the recommendations read.
Mason Tvert, communications director for the Marijuana Policy Project, told HuffPo that adopting such a suggestion would run counter to what Coloradans decided when they agreed to legalize marijuana in 2012.
"Colorado voters chose to end marijuana prohibition because they wanted to see marijuana controlled," Tvert said. "Banning edible products is the quickest way to lose all control over them. These products will continue to be in high demand, but banning them will ensure they are not properly labeled, packaged, or subject to health and safety standards. The goal should be to develop effective regulations and educate consumers, not remove all regulations and keep consumers in the dark."