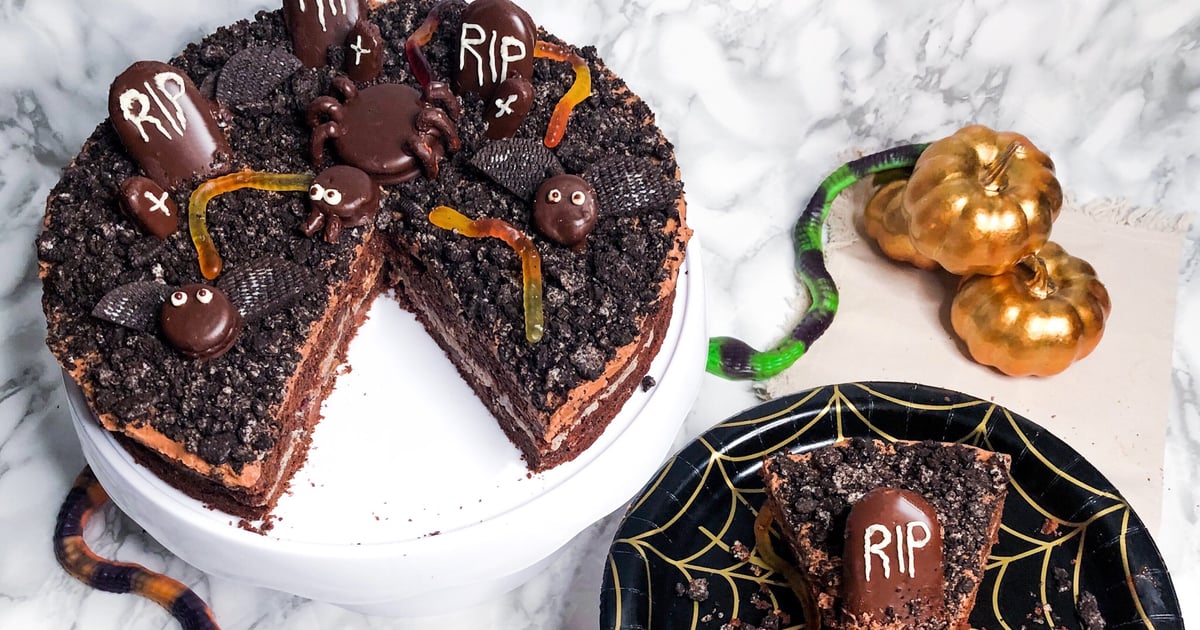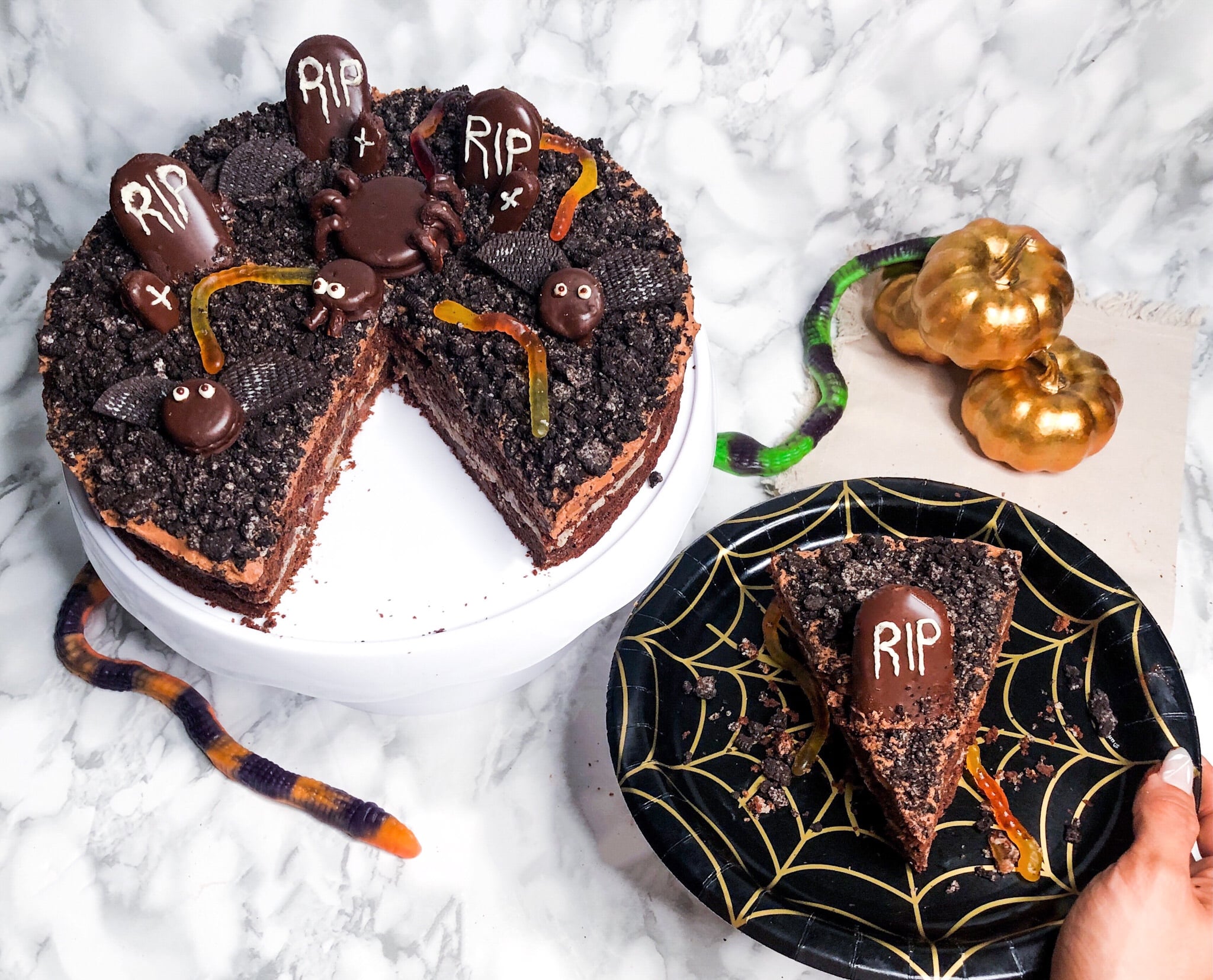 If your Halloween spirit stops just short of chomping into some cemetery dirt, this triple-chocolate graveyard cookie cake is for you. This spooky dessert is made up of two 10" triple-chocolate cookies stacked and separated by a heaping layer of vanilla cream filling (think giant Most Stuf Oreos) with hidden creepy-crawly creatures waiting to surprise unsuspecting eaters.
Edible tombstones, spiders, bats, and worms adorn the top of the cookie cake and lie on a bed of crushed cookie crumbs that create the most delicious "dirt" you've ever tasted. Serve your guests a slice of this graveyard cookie cake and expect squeals of excitement that are sure to wake the dead.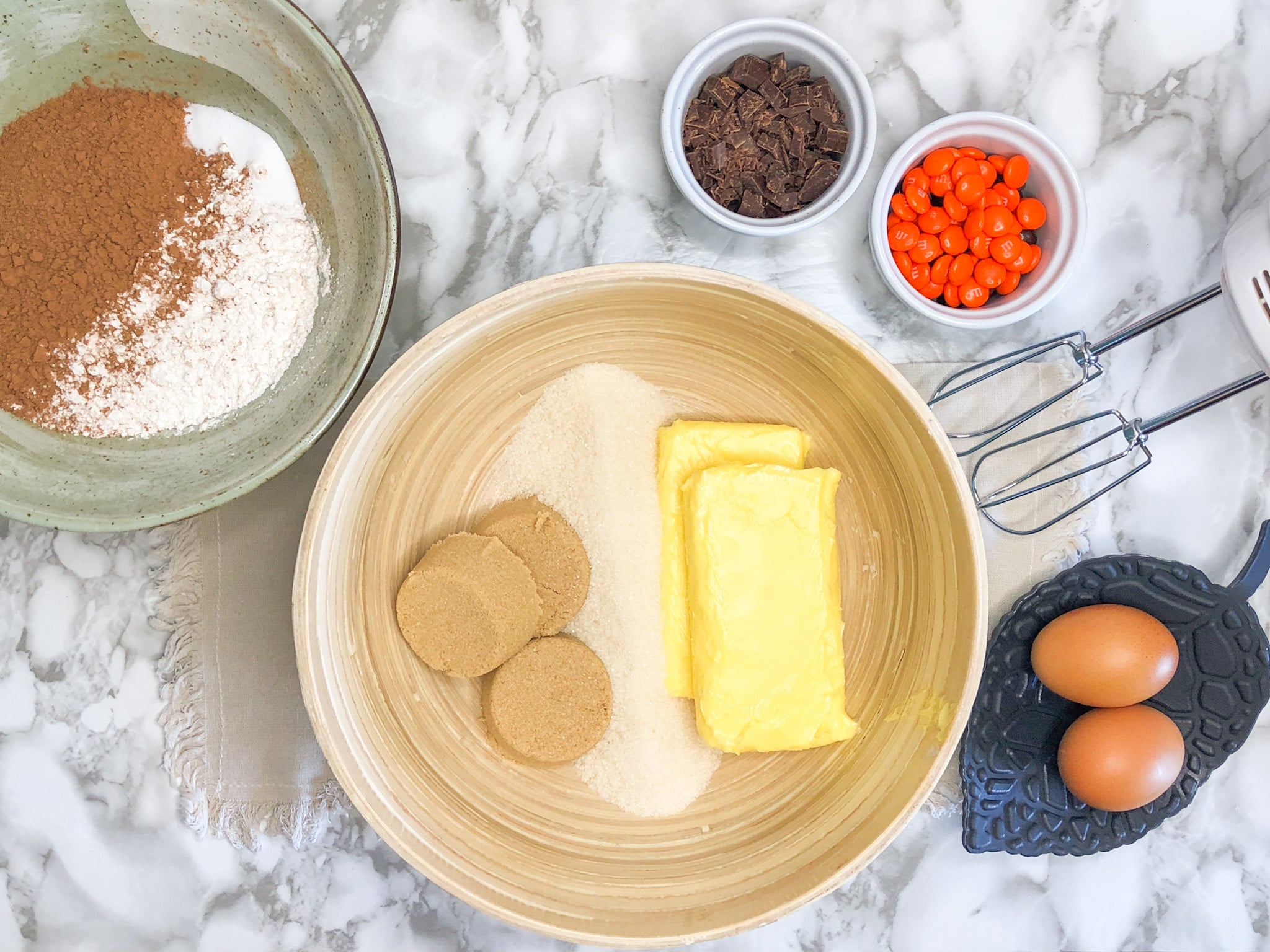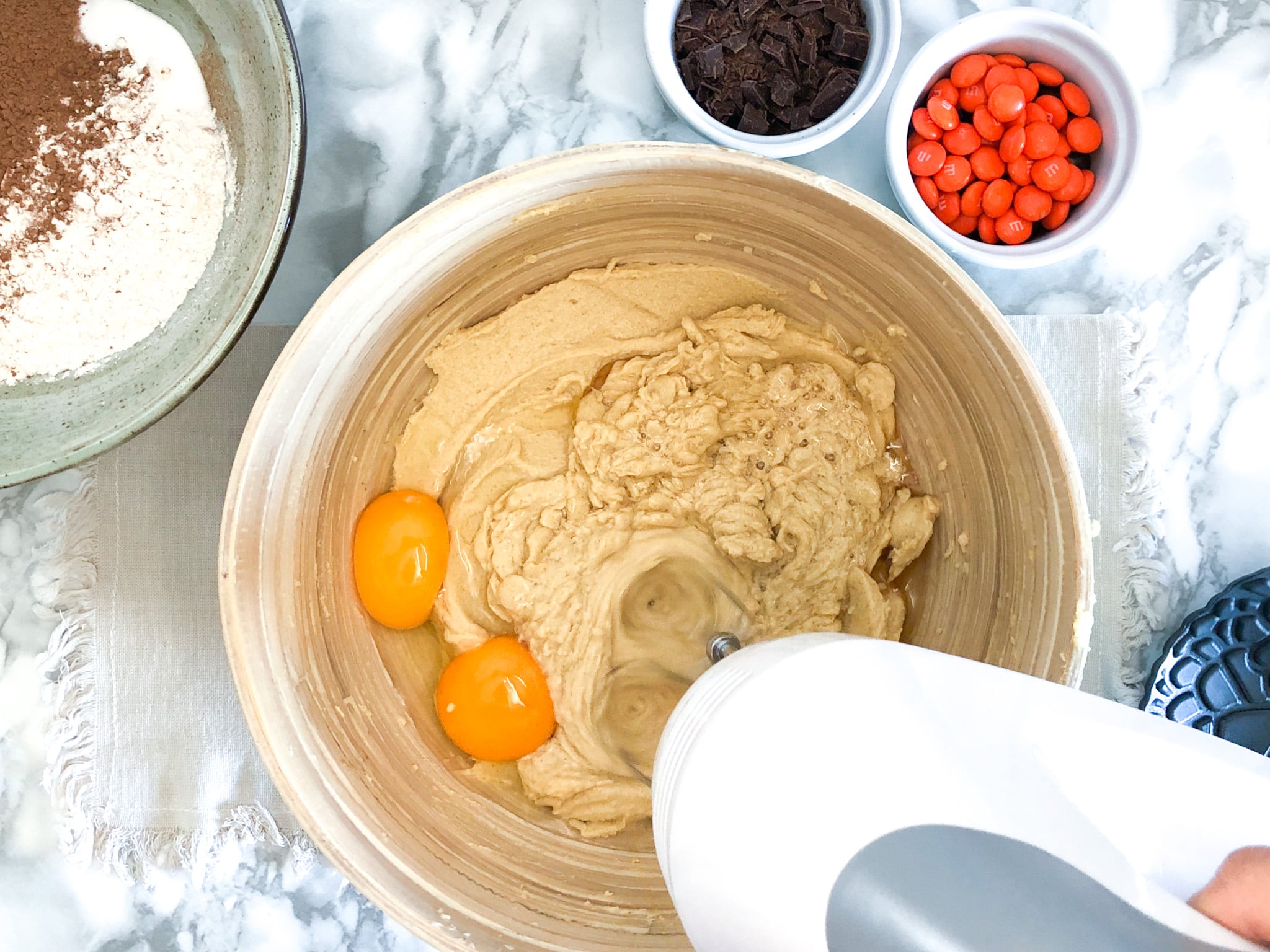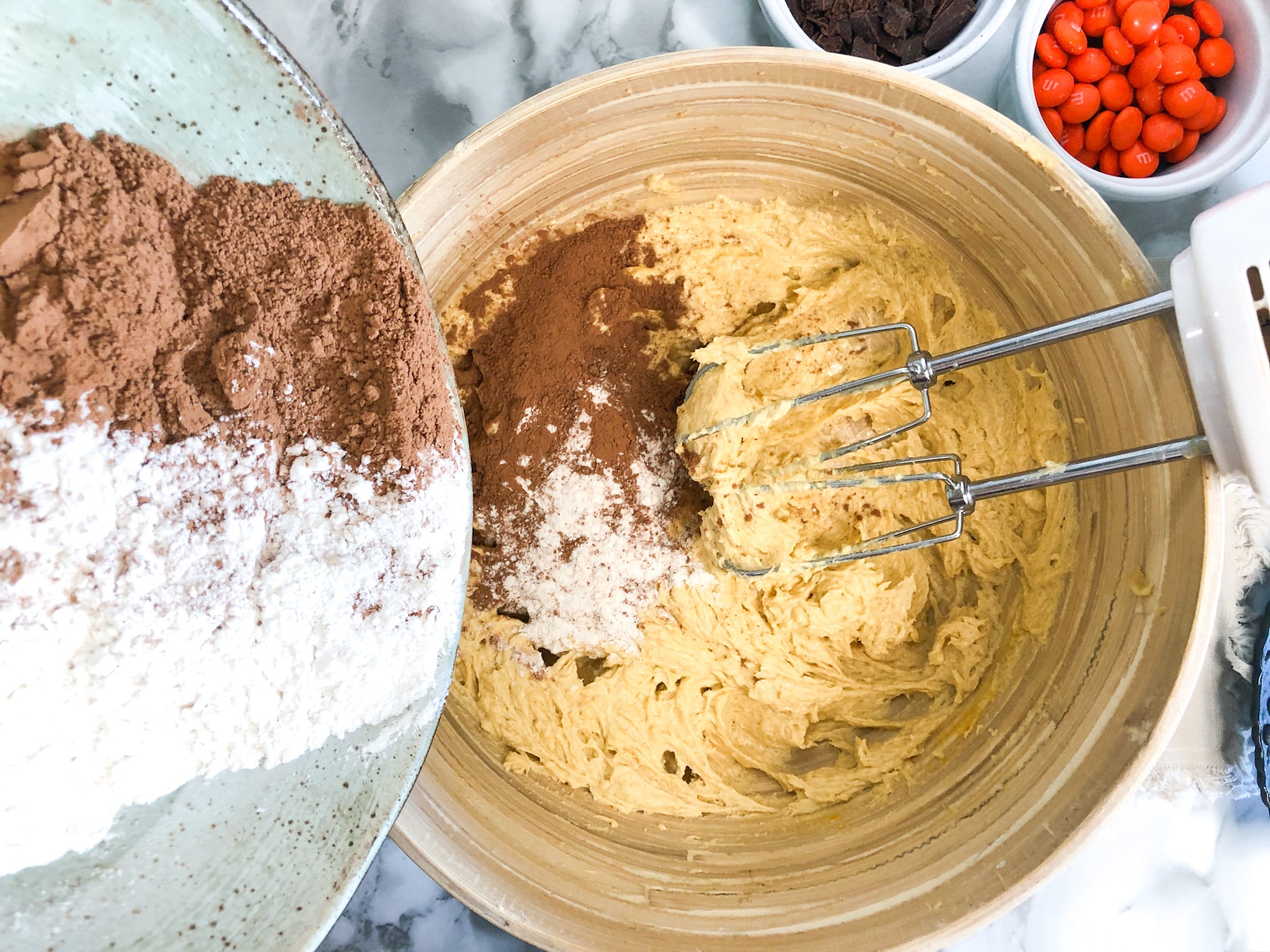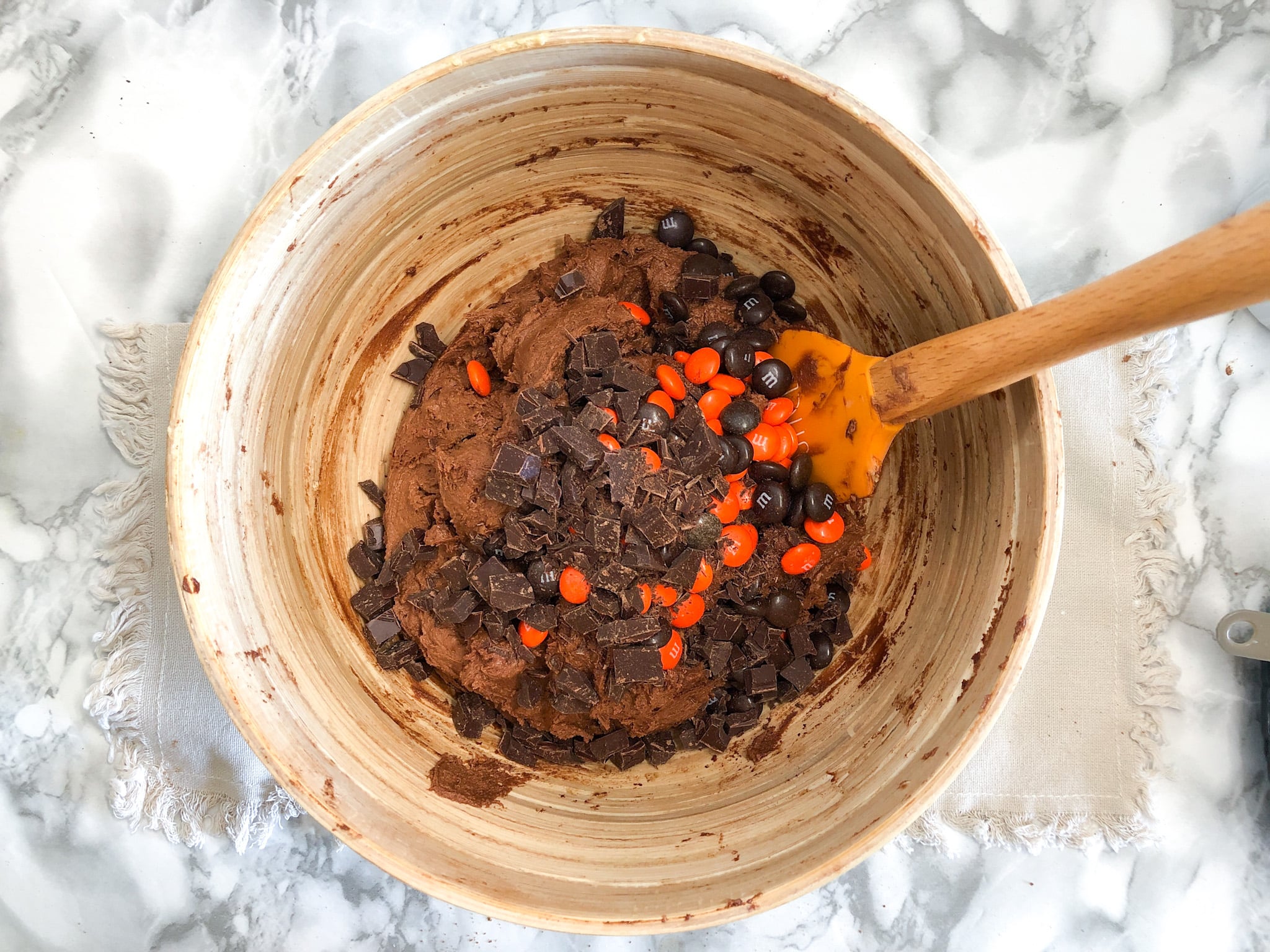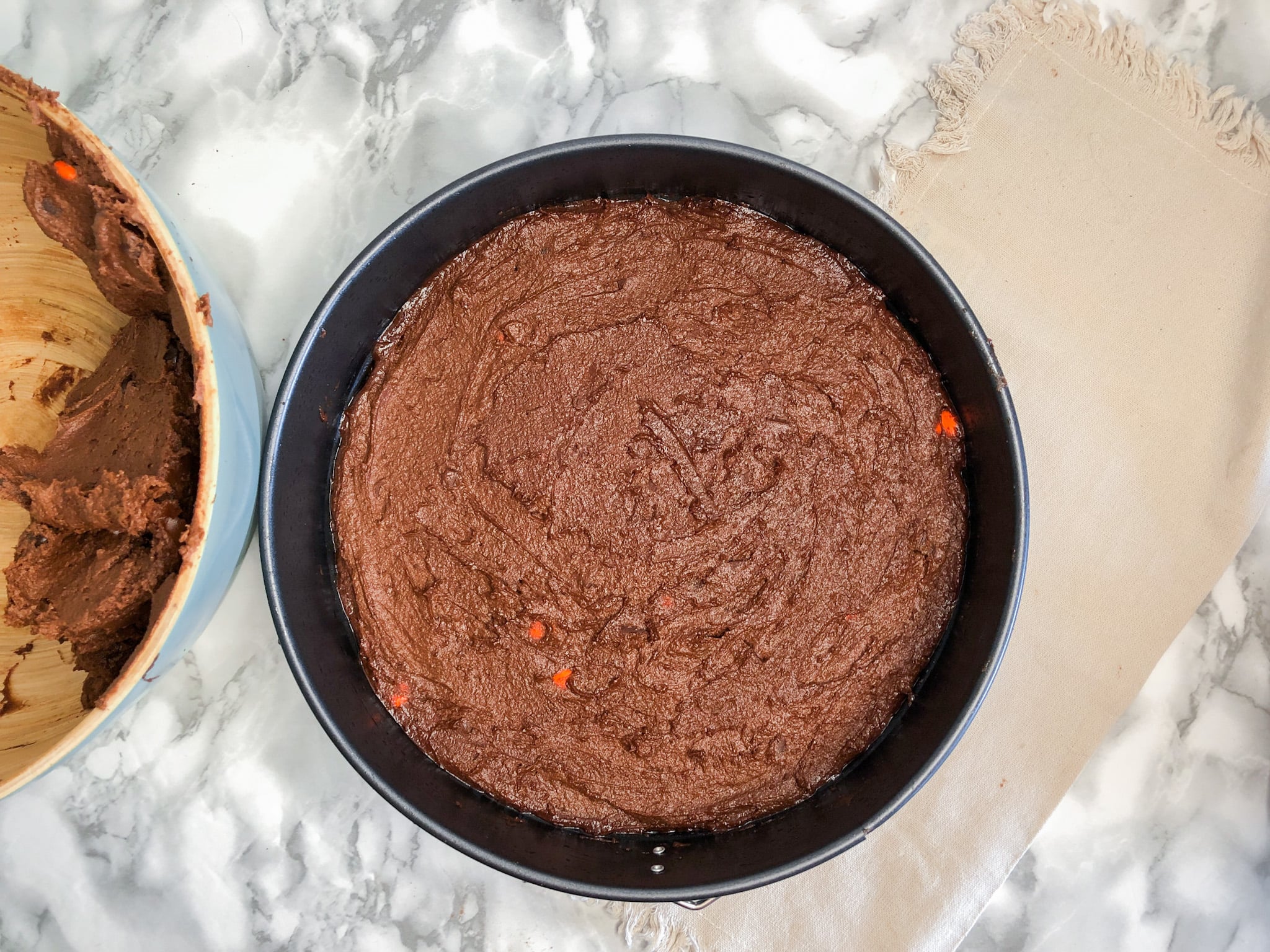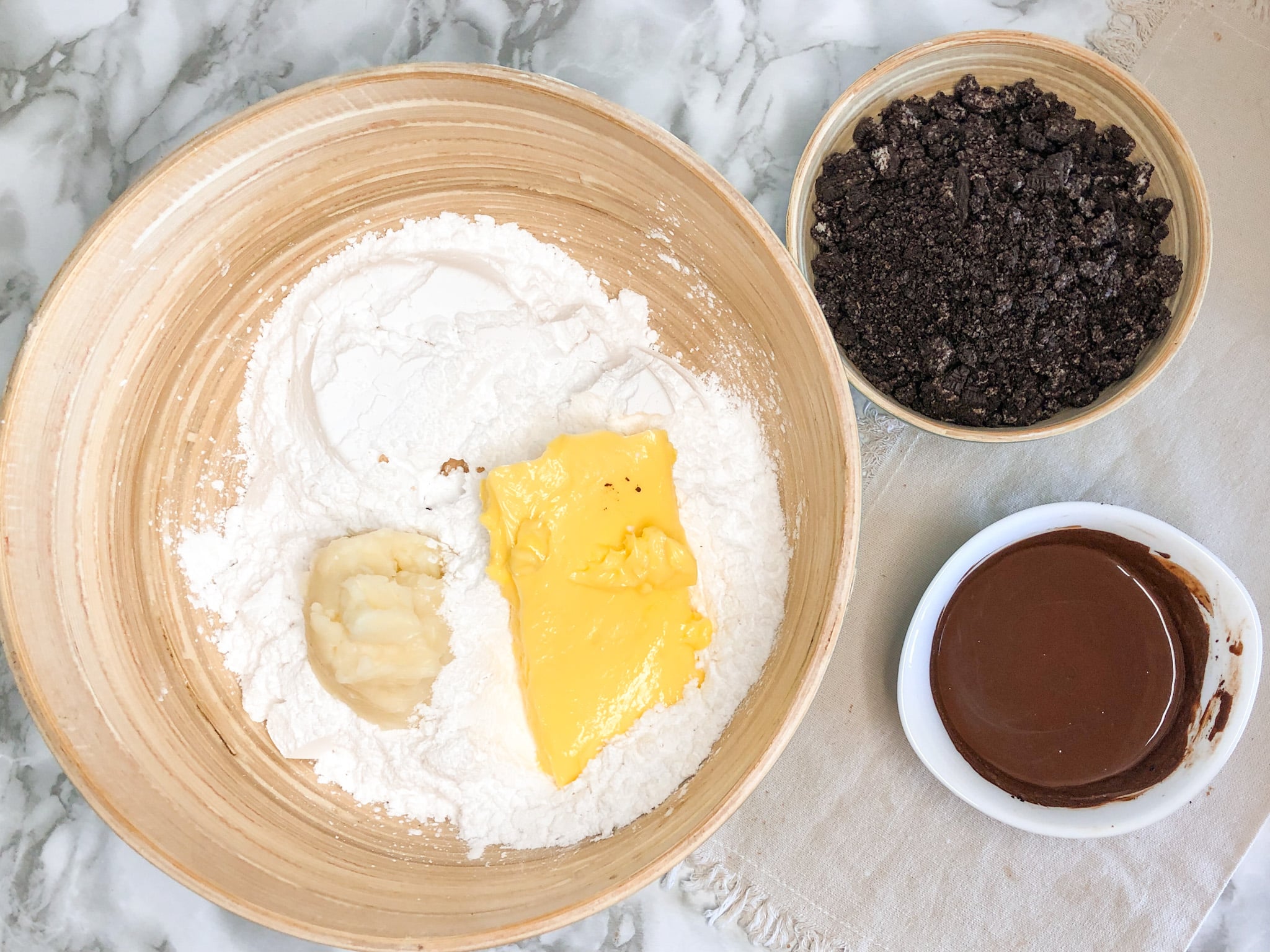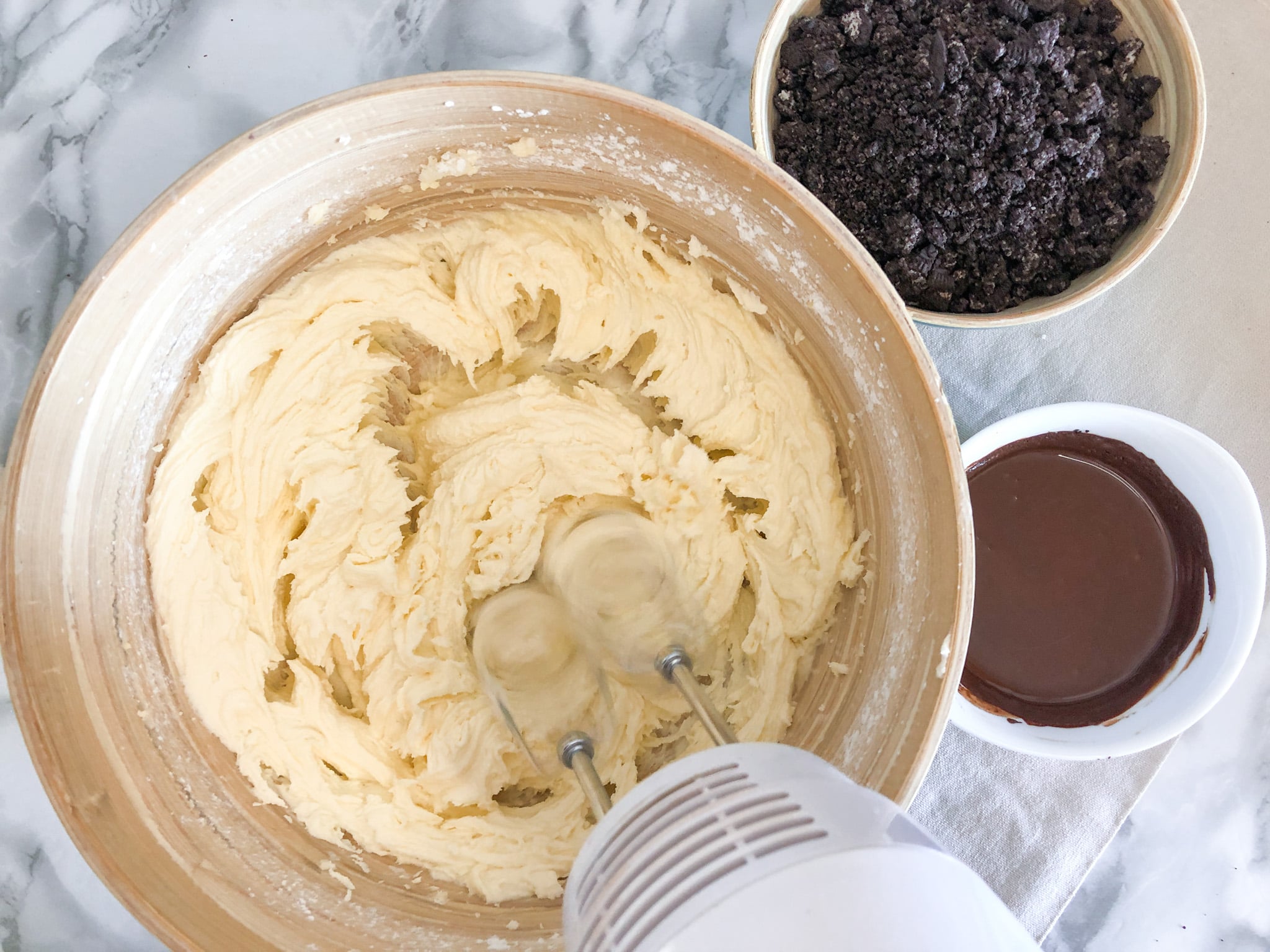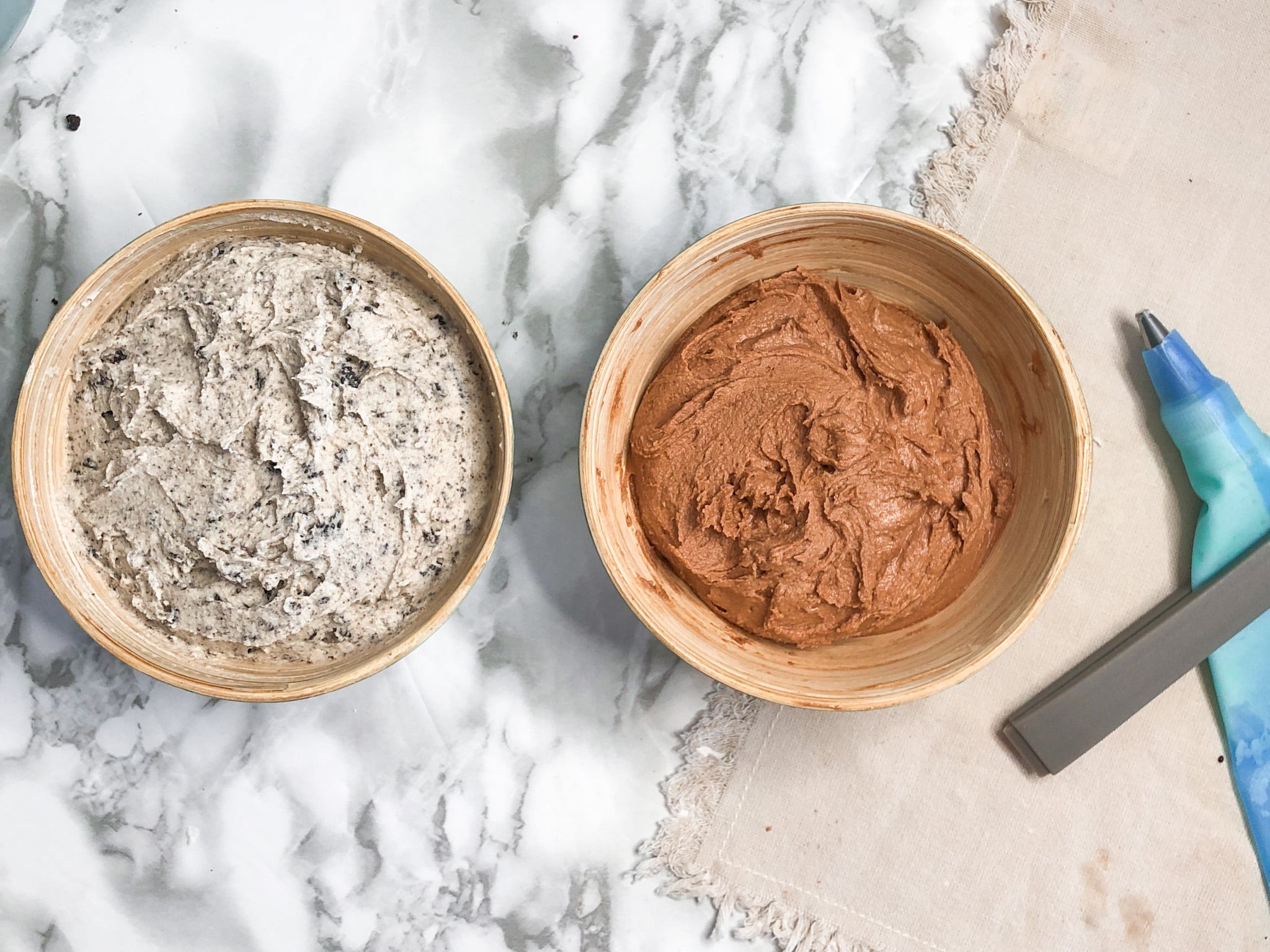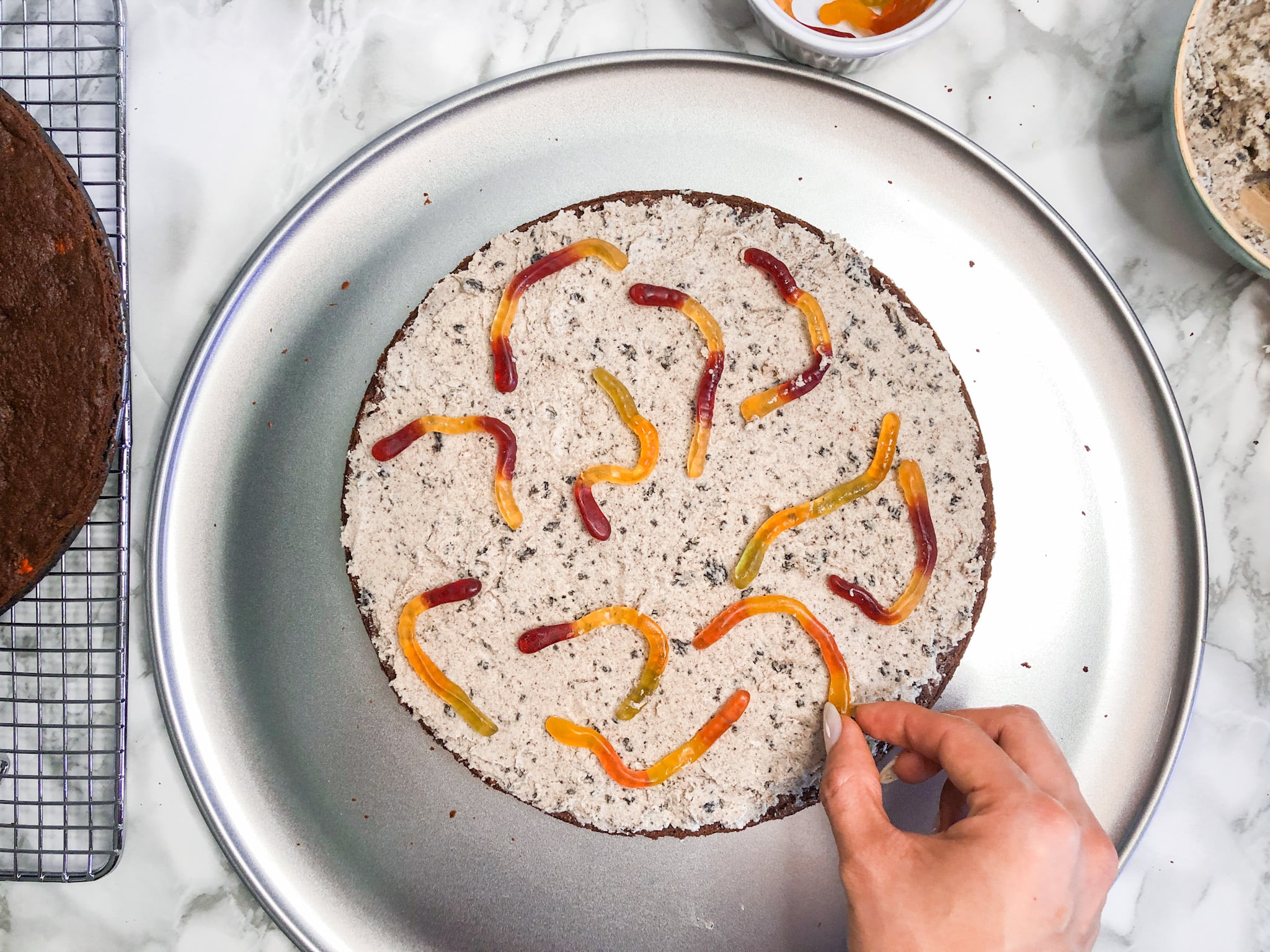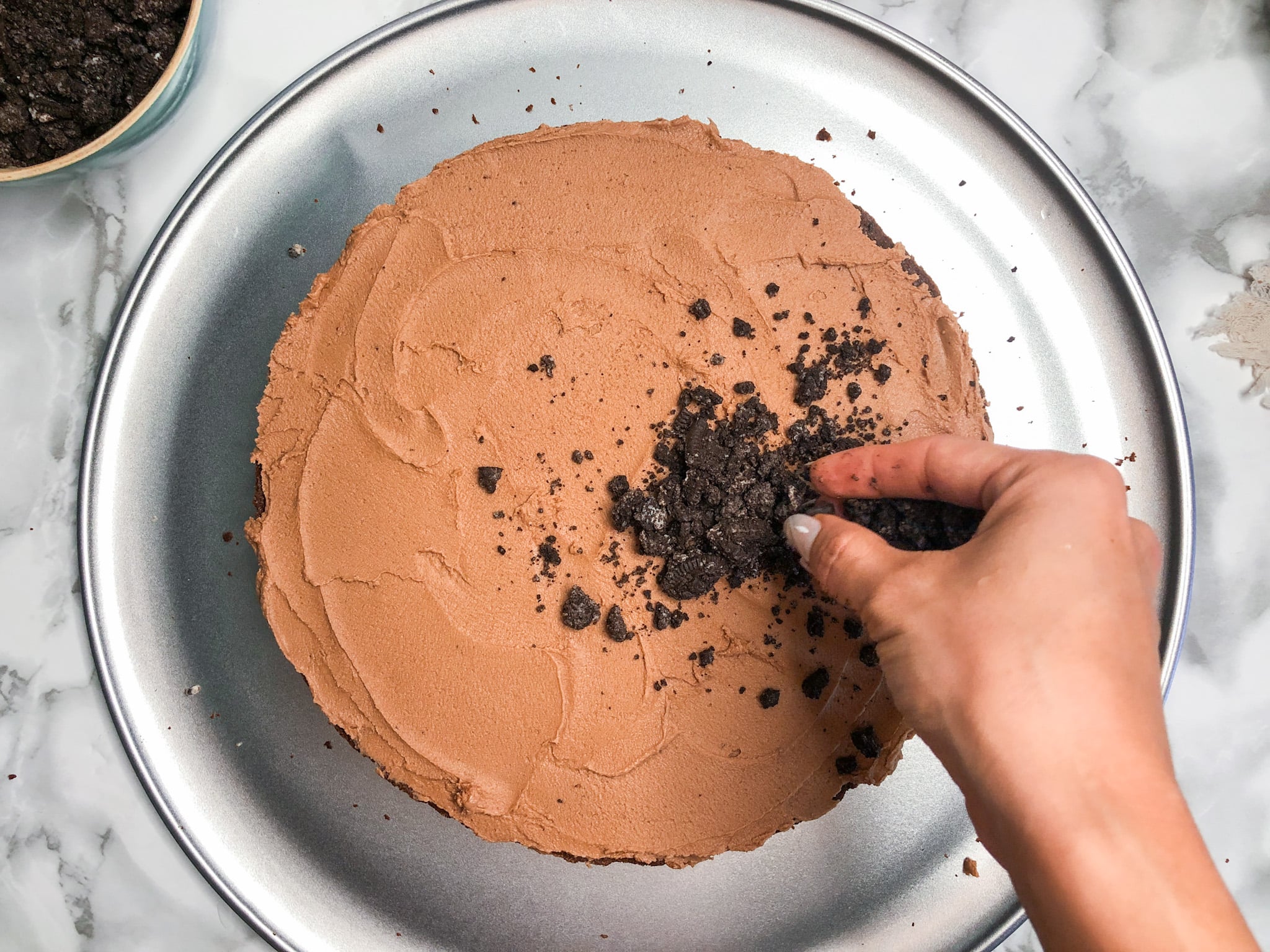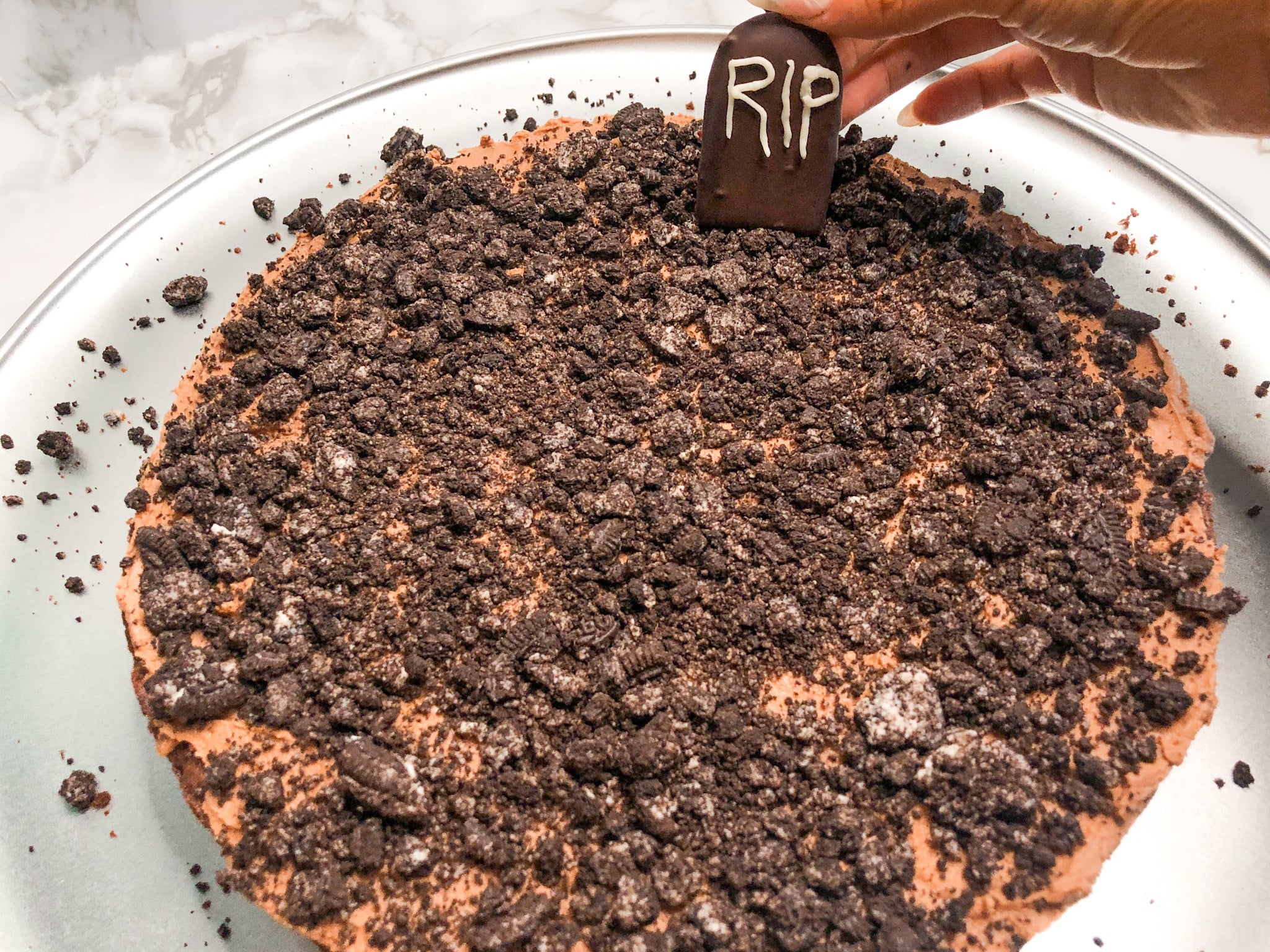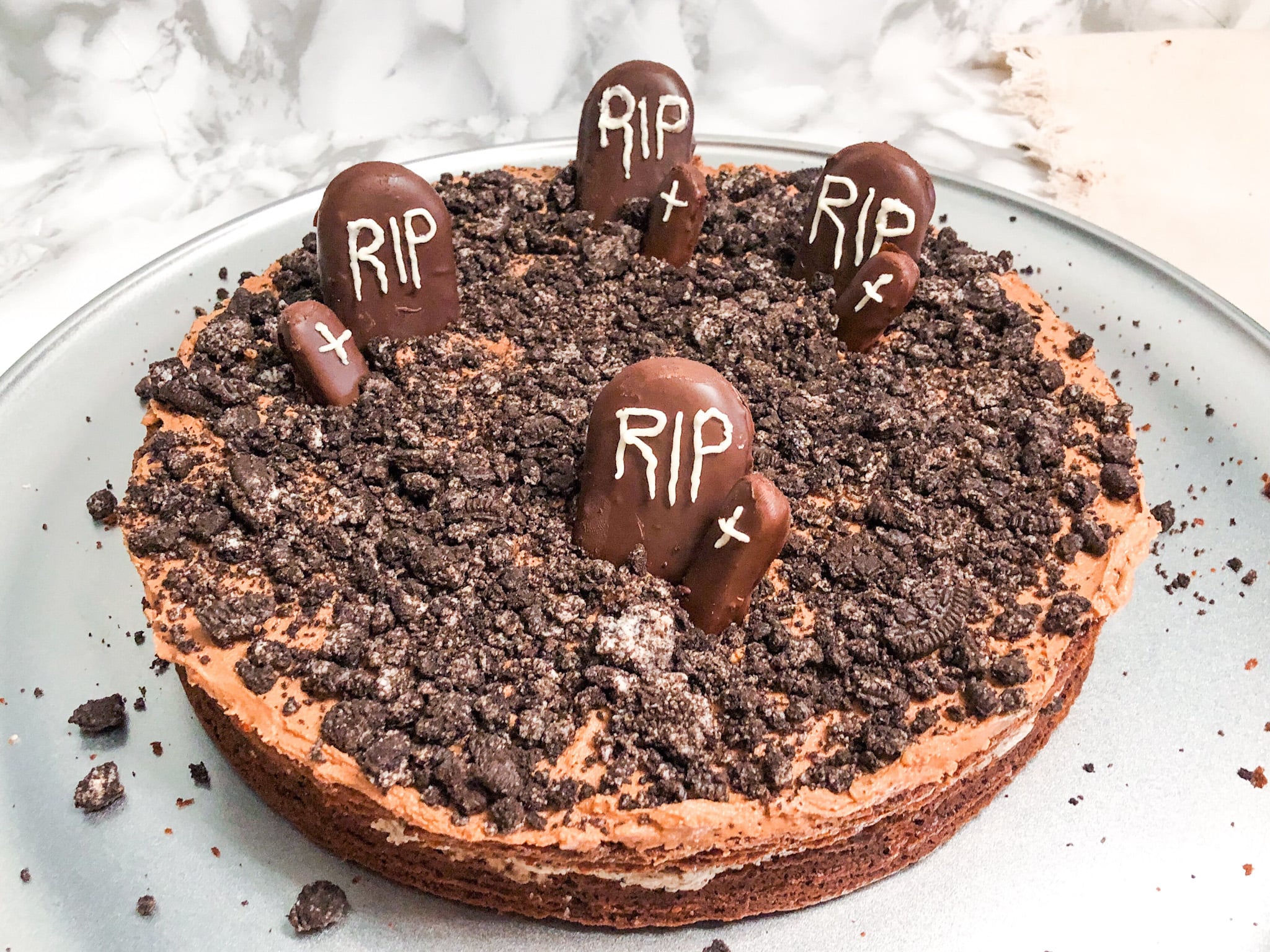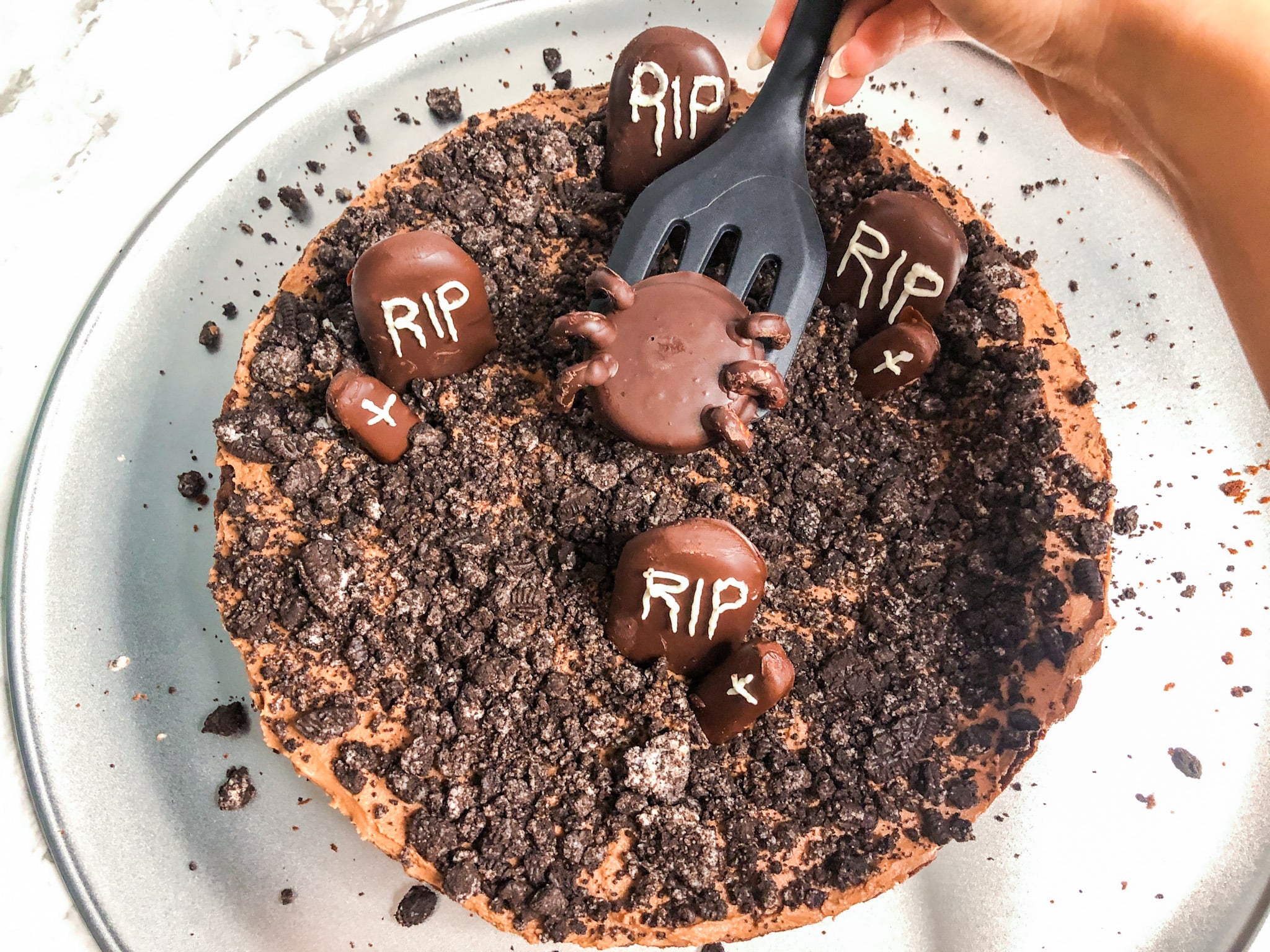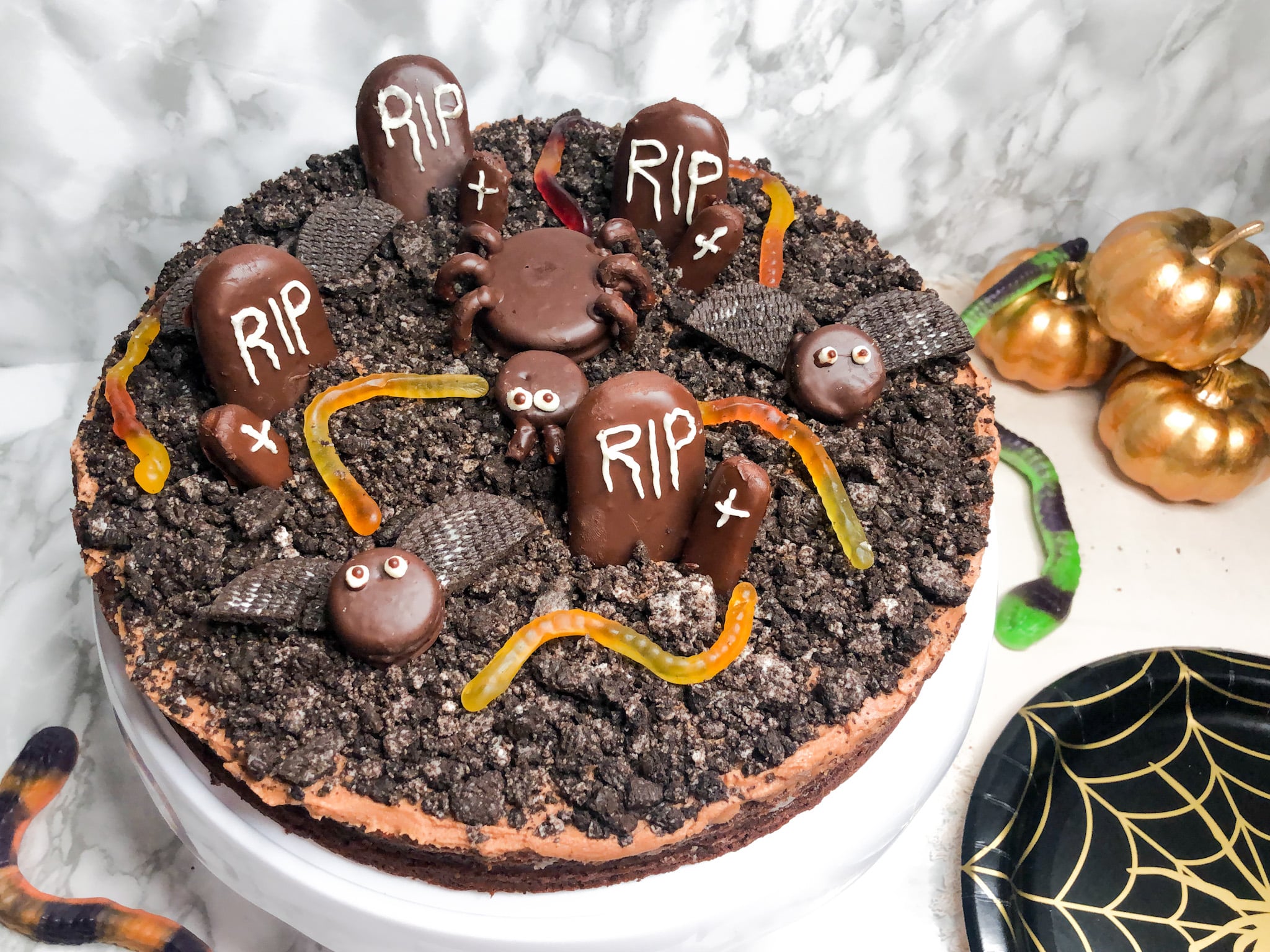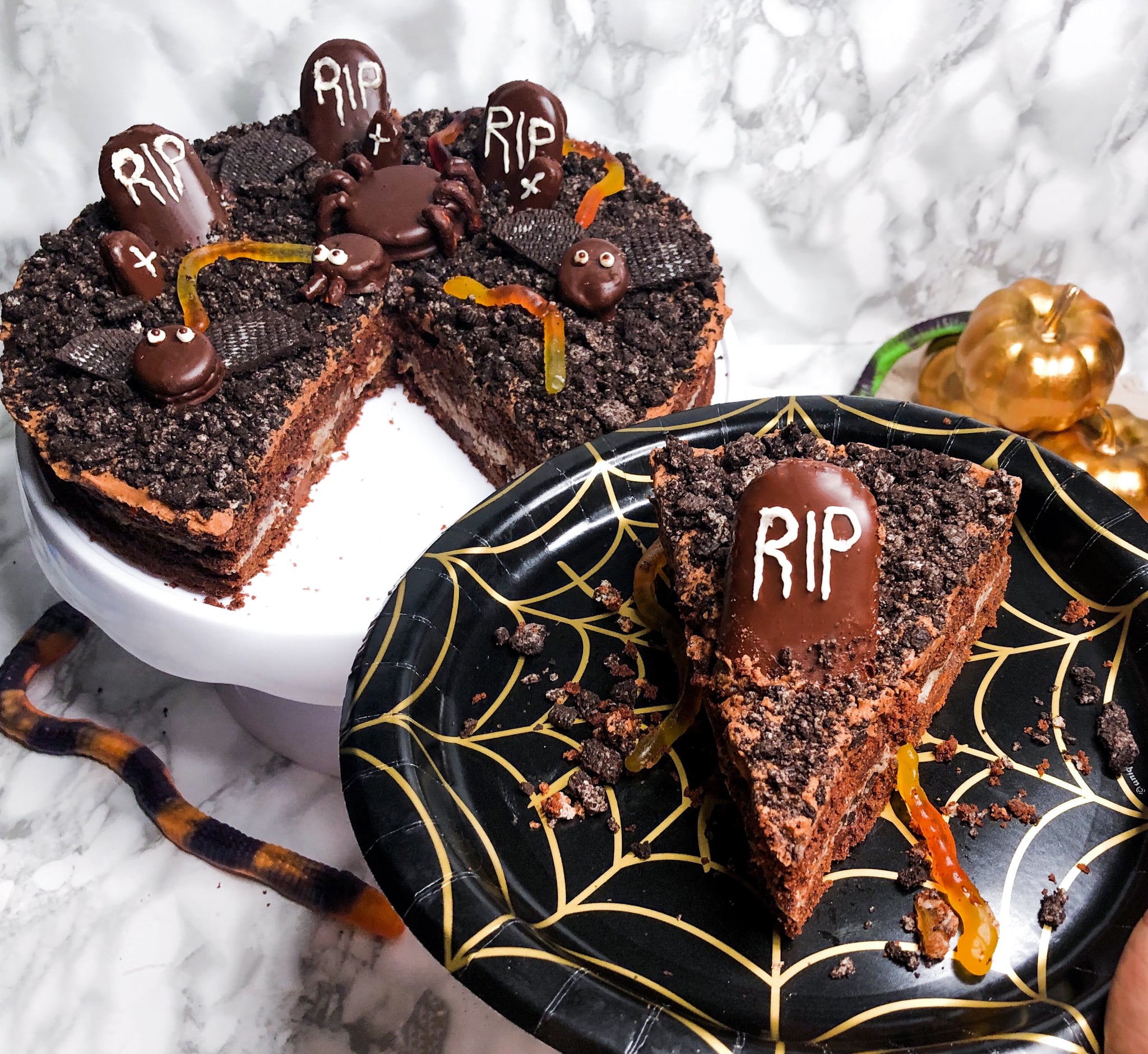 Notes
Replace the gummy worms with Pop Rocks, skeleton sprinkles, or any other spooky surprises.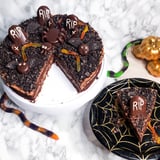 Ingredients
For the Cookies
3/4 cup brown sugar
1/2 cup granulated sugar
1 cup unsalted butter, softened
2 eggs
1 teaspoon vanilla
2 cups all-purpose flour
3/4 cup cocoa powder
3/4 teaspoon baking soda
1/4 teaspoon salt
1/2 cup chocolate chunks
1/2 cup orange M&Ms
For the Cream Filling
1/2 cup lard
1/2 cup unsalted butter, softened
4 cups powdered sugar
1 teaspoon vanilla
Pinch of salt
1/4 cup chocolate, melted
1/4 cup crushed Oreos
For the Edible Decor
1/2 cup chocolate, melted
2 tablespoons cream filling
4 Milano cookies
4 chocolate finger cookies
3 Oreo Minis
2 Oreos
6-8 mini pretzels
3-5 gummy worms
Directions
Preheat oven to 350°F, then grease two 10" springform pans with butter or nonstick cooking spray.
In a large bowl, beat together white sugar, brown sugar, and butter with an electric mixer until the mixture is fluffy and pale yellow in color. Add in eggs and vanilla, then continue to mix until all ingredients are just well-combined.
In a separate bowl, combine flour, sifted cocoa powder, baking soda, and salt.
Pour the flour mixture into the bowl of creamed sugar and beat just until all ingredients are fully incorporated.
Mix in chocolate chunks and M&Ms using a rubber spatula. Measure the dough on a kitchen scale and divide it into two equal portions of dough.
Press each portion of dough into the prepared pans.
Place in the oven and bake for 18-22 minutes, or until the internal temperature of the dough has reached 175°F.
While the cookies are baking, prepare the graveyard filling by mixing together the shortening, butter, vanilla, and powdered sugar. Separate the cream filling into 2 cups, 1 cup, and 1 tablespoon. To the 2 cups portion, fold in crushed Oreos with a rubber spatula and set aside. To the 1 cup portion, add 1/4 cup of melted chocolate and mix well. Place the 1 tablespoon portion into a piping bag with a small round tip for piping eyeballs and letters.
Remove the cookie layers from their pans and place them on a cooling rack.
While the cookies are cooling, prepare your graveyard toppings. First, prepare a few sets of eyes by piping small, round dots of cream filling onto a piece of parchment paper. Place in the refrigerator until the dots have set, then pipe a smaller dot in the center of the cream eye.
For tombstones, dip Milano cookies and chocolate finger cookies in melted chocolate, and write "RIP" with the white cream filling.
For bats, cut one single Oreo cookie (without the filling) down the middle and dip matching corners in melted chocolate. Adhere the Oreo halves on one side of an Oreo Mini with the cut side down to look like wings, then attach two eyes using melted chocolate.
For spiders, dip one large Oreo and one Oreo Mini in chocolate, as well as eight rounded segments of a mini pretzel and two smaller segments. Once the chocolate has set, assemble pieces in the form of a spider, then adhere two eyes.
Once the cookie layers have cooled, assemble the cookie cake by placing one layer on a serving plate and spreading 2/3 of the white cream filling evenly across the top.
Add in gummy worms or any other creepy-crawly treats you'd like to bury in your graveyard and smooth over the remaining filling on top.
Add the second cookie layer to the cake and spread the chocolate cream (chocolate added to the white cream filling) on top.
Place the tombstones atop the cake and press in gently to stand them upright.
Sprinkle crushed Oreos across the entire top layer of the cake for "dirt" and add your spider and bat decorations on top.
Let set in the fridge for at least 20 minutes before slicing and serving.
Information
Category Desserts, Cake Yield 10 servings Prep Time 1 hour Cook Time 25 minutes Total Time 1 hour, 24 minutes, 59 seconds

Source